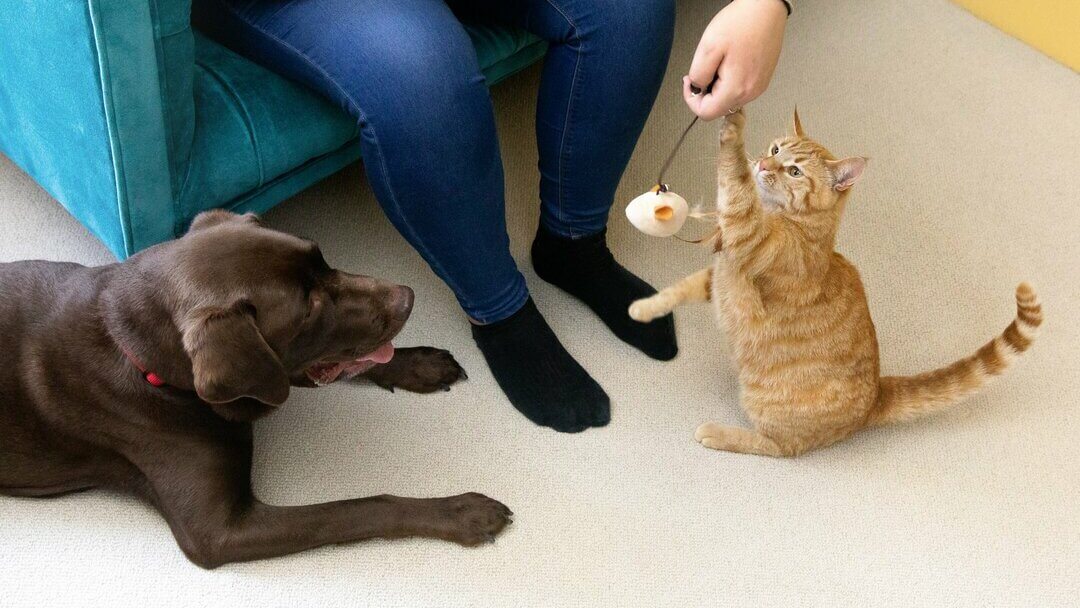 Many working pet parents wonder how they can keep their animals actively engaged when they are not at home. When your cats and dogs are idle and bored, they will be very destructive. Here are some of the entertainment tools that can help keep your animals busy.
Television
Generally, cats are visual animals, and they like visual stimulation. As a result, they can spend quality time watching cat videos and television programs containing bird documentaries, rodents, and fish. The programs help in improving their well-being and sharpening their hunting techniques. The good news about your cat watching the TV too close to the screen is that they don't injure their eyes. Some dogs enjoy watching televisions whose frame rates are faster as they are more likely to engage as opposed to slower frame rates televisions where they may not see the images. Programs like Dogtv help keep your dog happy and relaxed. Besides, your dog will no longer be scared of real-life stimuli such as vacuum cleaners or fireworks.
Laser cat toy
Cats love laser pointers. The toys help in improving the physical exercise of the cat. Cats are known to be natural predators as they enjoy capturing things. It also helps in providing mental stimulation. You can set the toy to random, slow, or fast so that your cat is always challenged, preventing it from getting bored. Most of the pet stores are offering toys for your cats. But you must read through the pet stores' reviews to know the previous customers' complaints, experiences, and feedback. This information will help you know the shop that offers the best toy at an affordable price and the one that gives quality advice on pet parenting to their clients.
Kong classic
We all know that dogs are natural chewers. Puppies need several chew toys. A kong is one of the best chew toys as it is indestructible. For heavy chewer dogs and dogs that are good at destroying regular toys, pet owners should consider buying black kongs. This is because they are made of tougher rubber. The kong's hollow design allows the pet owner to stuff the kong with dog food. The dog has to work to remove all the food. This is a fun challenge and an excellent way to keep your dog active and entertained. Kong helps in improving your dog's mental stimulation. The tools are also ideal for training and enrichment.
Cat dancer wand toy
The toy helps the cat improve on their hunting skills. They also help build confidence in felines and reduce many behavioral problems. The toy moves in a more erratic way, thus bring about mental stimulation.
Ebo catpal
The interactive robot cat toy helps in ensuring that your cat is actively engaged all day long. The toy is designed using artificial intelligence to enable it to learn your feline's habits, moods, and different play styles. The robot's movements are erratic resembling those of your cat. The toy has an in-built camera and microphone that allows the pet parent to keep watch of their pet regardless of where they are. Besides, the built-in camera enables the pet owner to know when the cat is sick through the change in behavior. You can also monitor your pet's activity levels using the Ebo's smart collar.
Are you wondering where to get an ebo catpal robot toy for your feline? Worry no more as inspire uplift got you covered. They offer the latest tech toys for your pets to keep them well entertained and actively engaged. However, you must read the inspire uplift reviews to know the previous customers' complaints, experiences, and opinions. This information will help you know the quality of their products and how they offer their services.
Outward hound dog toy
The smart toy stimulates your dog's mind and helps in improving its problem-solving skills. The toy helps in eliminating boredom. Besides, the toy has nine removable bone pieces making it easier for the pet owner to hide the treat beneath the bones and let the dog search where the sweet smell is coming from. This will help improve your dog's smelling senses.